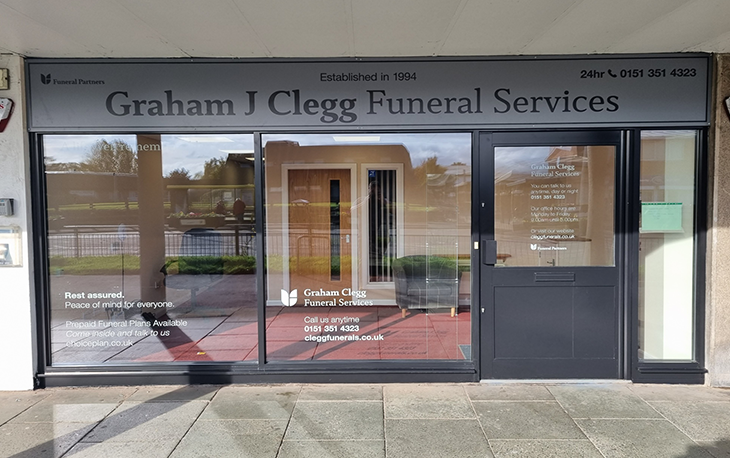 Funeral Partners have opened a new funeral home in an accessible location to support more families at their time of need.
Graham J Clegg Funeral Services has expanded in Merseyside to Maghull's busy Central Square, Westway.
Graham Clegg, Business Principal at Graham J Clegg Funeral Services, added: "Within a day of our sign going up above the door in Westway we received greetings cards and drop-ins from old and new faces, which has been a real pleasure. We have a warm and approachable team that are always delighted to meet people."
Graham J Clegg's new premises in the Central Square retail centre has excellent roadside visibility as the brand expands its presence from Dover Road to Westway, situated in a convenient location with three car parks and a bus stop nearby.
The funeral home also has a newly decorated and furnished reception area, arrangement room and chapel of rest onsite. Recently, the funeral directors launched its own Facebook page to engage with the Maghull community virtually and keep up to date on local initiatives.
Graham added: "We've already had the honour of helping a number of families since setting up the new funeral home in Westway, which shows a clear need for our services and reaffirms our decision to open here."
Sam Kershaw, CEO of Funeral Partners, said: "I'm proud to see the expansion of this highly respected brand. As well as honouring their family name, the new branch will give us the ability to serve more families in modern, spacious facilities.
"The expansion is testament to the superb service this funeral team can offer and shows the value brought through investment."
Keep up to date by following Graham J Clegg at www.cleggfunerals.co.uk and on Facebook.